What if I told you that if you choose to buy local, you're helping our schools, you could make someone do a happy dance, and YOU COULD SAVE MONEY TOO, would you be interested?
Buying local isn't a new concept. It's always been important to purchase from your local community as much as possible, but 2020 certainly brought that to the forefront of every town. 
I am a proud member of The Montgomery County Chamber of Commerce and they were quick to launch a campaign in 2020 to encourage community members to buy local with #myfootprint. Several of our community leaders came together to create a very informative video to show what dollars spent locally means to all of us.
Please check out the video to learn more. 
The need is great for all of our locally owned businesses, but in this time of so much turmoil and confusion, why should YOU buy local?    
Here are three convincing incentives to encourage you to buy local:
After the year, we've all had, you've got to make the effort to keep our local economy strong. There are various reasons that inform community members' spending, so I wanted to share a few extra special incentives to spend your money in the NRV.
1. More money stays in our area even with a T.J. Maxx purchase.
We typically think of shopping at the big box stores as bad and not supporting local business, but they help our community too. So if you can choose something from Michael's instead of Amazon that's actually a big step because some of those tax dollars stay here. 
We all understand that choosing a toy from Adventure Hobbies and Toys is definitely better than buying from Walmart for so many reasons, but you don't have to feel bad shopping at the larger retailers or restaurants either.

2. You can make someone do a happy dance!
When something goes your way or you get a little extra money in your pocket does your happy dance happen on the inside, or do you go all out, turn on some music, and celebrate?
I'm definitely doing a little jig when I book a new client!
You may not see it happen, but it does. When you give your money to the owner of the local shop or business you may not get to see the happy dance, but it's for sure going to happen. The icing on the cake is that even YOU probably left that interaction with a good feeling and maybe even a new friend. Right now, wouldn't we all like a few more friends and connections?
3. You can save money if you buy locally in the New River Valley.
Yep, you heard that correctly, a few of our wonderful leaders in the community created NRV Homegrown to encourage you to buy locally. Its goals are to help consumers save money, businesses build stronger connections, and support a strong economy.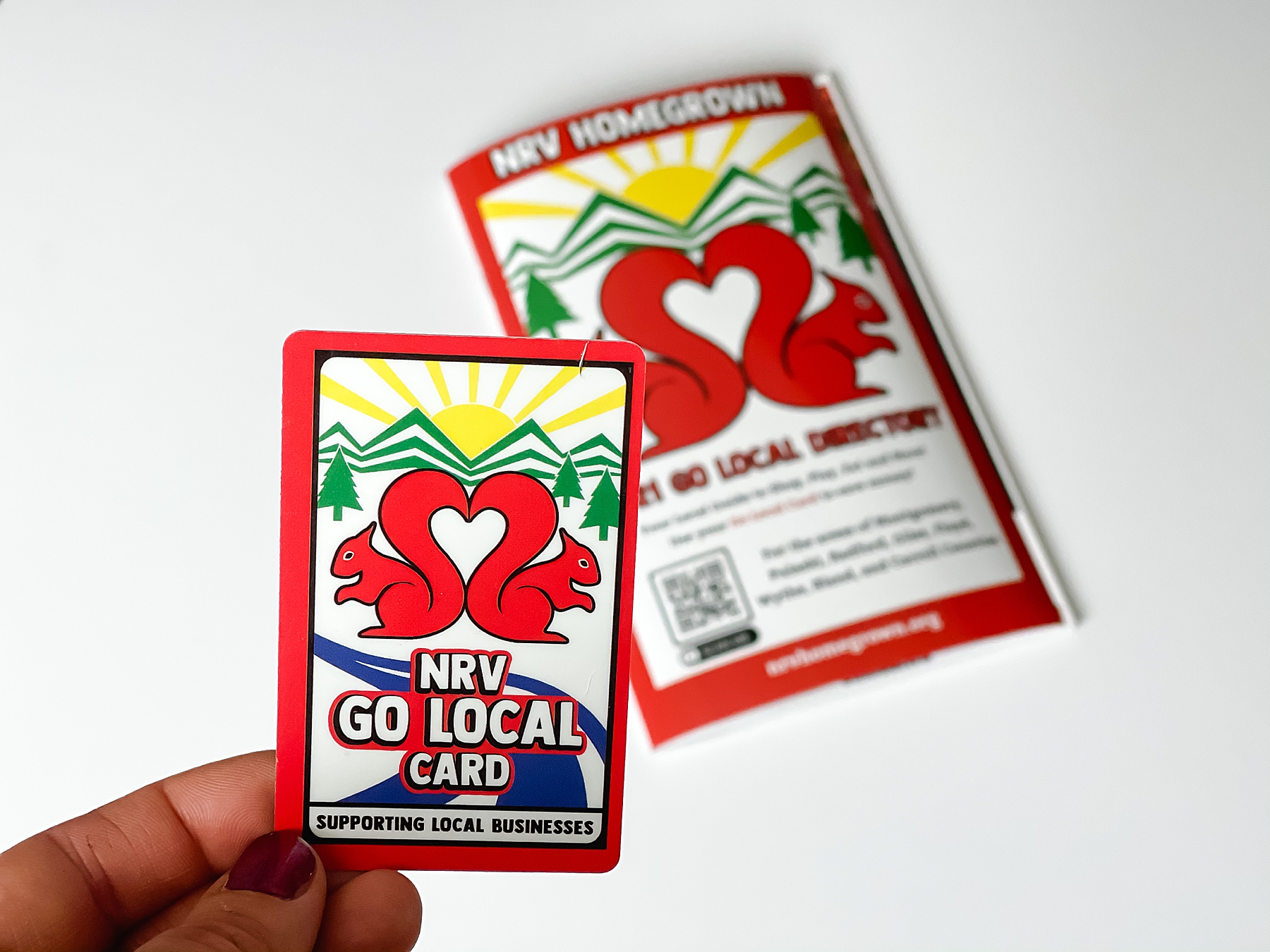 You purchase an NRV Homegrown card for $20 from me or another local participating business and the savings can begin immediately! Just browse through the directory to check out some of the specials offered. You could pay for your card in one visit and you have the opportunity to continue saving for the rest of the year!
Kristina Rose Photography is listed in the directory too.  You can save on your next headshot session!
So what are you waiting for?
Hop in your car and go out to eat or pick up a gift. Then tag the business on social media with the #myfootprint and just maybe you'll see their actual happy dance! 
Want another incentive? Sign up for my email newsletter and you'll get another chance to save!