Ok just because I am a wife, mother, and a VA family photographer, does that mean that I can speak for all moms?  Nope, but I think that I have a handle on some of them, at least.  Honestly, I'm excited to hear what others think in the comments – let me know if you agree, Moms.
Because Dad, no matter what mom says, she wants something awesome for Mother's Day.   And even if you are lucky enough to have a wife who comes right out and tells you the exact thing she wants and hasn't bought for herself, go a little above and beyond this year.  Surprise her with something special
Dad, be the hero this Mother's Day.
She wants it.  She does.
So feeling guilty? Have you waited until the last minute?  Don't panic!  It's ok because I've got you covered.
Just remember – you have to grab her by the heartstrings and show her how much you appreciate what she does for your family.  So here are a few suggestions to help you out with your last minute gifts.
1. Get a little crafty!
Mommas love their babies and when they take just a few minutes to make something special, it warms our hearts.  When our man actually sits down to work with our babies to make that special thing…well, that's just even better.
You know what I've done for you!?  I made a Pinterest board full of easy things to do with the kids.  I know I know…I said the "P" word.
Hear me out! You know how your wife made you that adorable photo collage of the kids holding the letters to spell out D-A-D?  Well, we do that because WE love it and thought you would too.
Guess what I didn't find on Pinterest (at least in a quick search)?!  One single example of kids holding the letters M-O-M.  Because it's not as fun if we have to do it ourselves!
2. Use your phone!
Did you know that you can make a little video easily using an app like iMovie or Google Photo?  It's simple to do and she'll love it.  My 10-year-old daughter can do it.  It's that easy!  Just take a few photos and ask your children to share how much they love their mom on video.  BAM! Adorable video and happy mommy.
3. A little bonus insider information
You know what two things are kind of a big deal right now?  Alex and Ani Bracelets and MantraBand.  I think most moms would agree that these are pretty cool and both have gift cards available online.
I wouldn't be doing my duty as your photographer friend if I didn't alert you to THREE amazing specials that I have right now.  Because in case you haven't realized I'm celebrating moms, so…on with the list.
I take photos of mom with her children and then interview the children separately to create a very special video slideshow for her.  Right now, you can score this session at a special rate for the amazing mom in your life!  And if you book before Mother's Day, she'll be in the running for another gift that's only available to those who book a Celebrate Mom session.  I'll email you a gift card available to print just in time for Mother's Day.
5. Purchase a family session!
This idea was prompted by a dad who's already winning the husband game this year.  He purchased his wife a full family session for Mother's Day.
You know who ALWAYS contacts me to book sessions!  Mom!!!  Family photos are important to moms.  Many times, they worry that their husband hates doing it.  Just imagine if took that one extra step to do that for her?  She would be so excited AND you could even promise that you won't complain about having to do it this year.  That might be the best gift of all!
If you purchase a gift card of any amount for a Mother's Day present, I will also send you a voucher to cover your session fee! That's a saving of $150!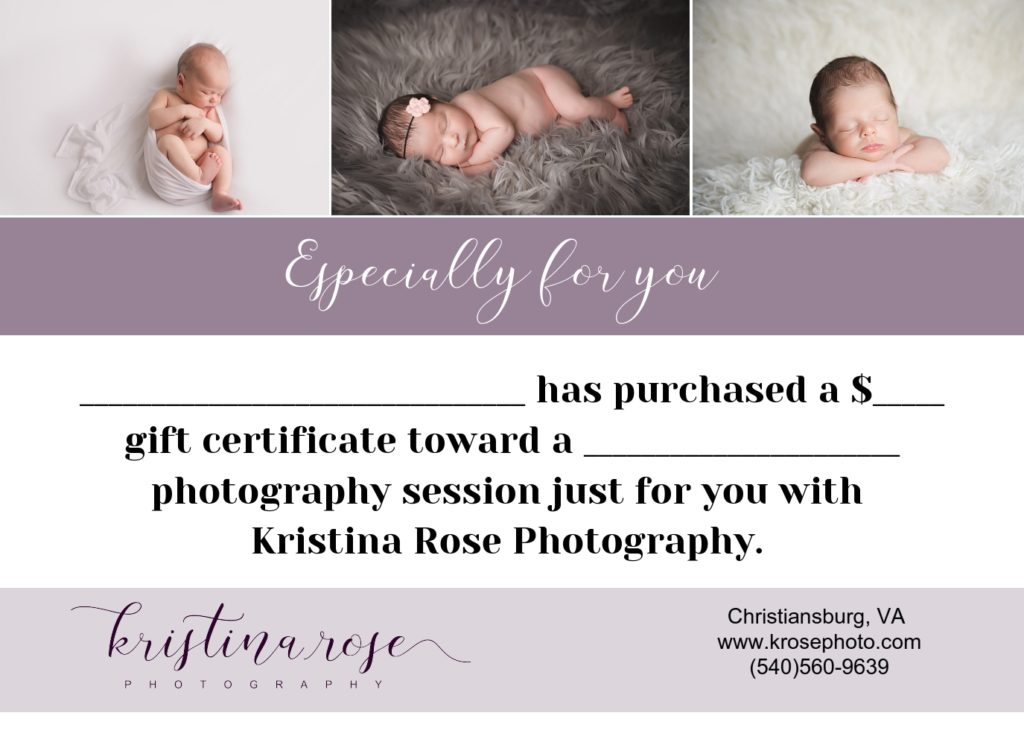 Honestly, how often do you get that big camera out?  Probably not as often as you should.  Is it because it's frustrating and hard to get used to it?  Well, my friend, I am teaching camera classes this summer.

Sweet Clicks with Kristina Rose Photography is just the instruction she'll need to get started.  And again, I am offering a Mother's Day special!  I know, it's pretty awesome! If you book your class before May 15, you can snag a spot for $99 (enter the code mom).  After that, it will go up to $150.  That camera was a huge investment.  Why not learn to use it!
AAAAAAANNNND…you're welcome!  I hope this helps you be the hero this Mother's Day.
Mom, do you agree with these suggestions?  Want to send your husband a hint?  Just forward this post to him.  He can't ignore it!  And sometimes, we just need to be vocal about what we want!
Want to make sure you don't miss out on anything spectacular?  Want to make sure you're the first to know when specials and dates are available?  Become a KRP VIP!