Whether you're using your phone or your big fancy camera, I think we can all agree that capturing movement (think: children running) can be super hard.  And then you try to play around with low light and wow…now that's challenging!  That was my biggest question from my first Sweet Clicks Photography Class this summer.  And as a Christiansburg, VA Family Photographer, I try to play around with light to find the best light in any situation.  Lighting is KEY in photography. It was really exciting to take the family to Smith Moutain Lake to play around and capture a great fireworks display over the water.  And in doing so, I want to share My Top 6 Tips to ROCK Your Fireworks Photos with your iPhone.  {My apologies to Android users.  I have an iPhone, so I have to work with what I have, but many of these tips will still apply.}
1. STABILIZE YOUR CAMERA
This is probably the most important step. If you move or shake even a little while taking this photos, it will show. Do you have a selfie stick?  If so, that's a cheap and effective way to stabilize your camera.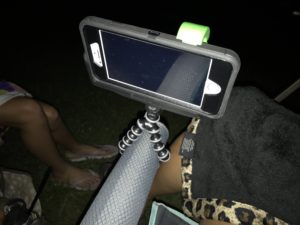 Or you could use one of these little tripods like I did.  It's important to stabilize your camera when shooting in low light (especially that fancy camera!) because the shutter needs to open and close more slowly.  Haven't we all gotten those terribly blurry phone photos in low light situations?
2. THE FLASH IS NOT YOUR FRIEND.
Actually, this should be a basic rule, in my opinion.  I keep my flash off all the time. Phone photos with the flash very rarely turn out to be that great.  But it's really important when you're trying to take photos of fireworks and sparklers.  It removes an unwanted light source, but it also reduces shutter speed lag and blurry photos. Make sure you actually turn it off and don't just turn it to auto.
3. THERE'S AN APP FOR THAT
Consider downloading an app that will allow you to manipulate the settings more easily. I like Camera+.  I have an iPhone and it's $2.99 in the App Store….not a bad price for the extra amount of control it gives you. You can control shutter speed with this app which will give the opportunity to capture the light trails in the photos. You'll want to set it on a slow shutter and the app will even adjust all the other settings for you, but it also gives you the opportunity to control focus, shutter speed, and ISO. If you don't know what those are, make sure you join my facebook group where I share tips and tricks to take photos with your phone and sometimes your fancy camera too.
4. TURN ON HDR AND USE THE AE/AF LOCK
The HDR setting on your phone stands for High Dynamic Range and basically means that your camera will take photos slightly differently than normal in order to balance all the light and dark details of the photo.  And what is in firework photos? Lots of dark and light areas! I'll definitely go into more detail about this in later tips. It's a cool setting and you can use it for many situations.  And make sure that you have chosen to "keep the normal photo" when shooting in HDR. Sometimes it may not be the best photo and you'll want to ditch it and keep the normal one. If you turned that feature off, just turn it back on again: Settings > Photos & Camera > Keep Normal Photo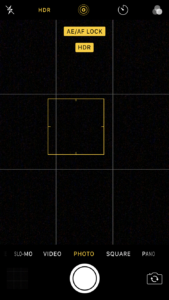 The AE/AF (auto exposure/auto focus) lock allows you to lock in the focus of the photo as well as the lighting.  Your camera will focus on the closest and brightest firework and sometimes that may not be in the center or where you would like to see the focus. So you can tap the screen to choose the focus and exposure of the photo and when you are happy with how it looks, you can press and hold until the AE/AF Lock button appears. This will also get rid of that annoying delay as your camera tries to decide what to focus on in each photo. And if the exposure isn't quite right after you've locked it, you can slide the little sun up or down to bring the exposure up or do for the next photo.
5. FIND A GREAT LOCATION AND SHOOT LOTS AND LOTS OF PHOTOS
Make to snag your place early. You'll want it to be free from obstructions like trees or light poles. And stay away from extra light sources that may impair your photo (think shopping mall lights or street lamps). You can even bring along some sparklers so that you can practice some before the real show begins.
Make sure you camera space is free and you have the ability to take lots of photos. You can even experiment with burst mode and take many photos in rapid succession. A dirty little photographer secret is that we take hundreds of photos and only keep a few.
6. CULL AND EDIT
When you get home, cull your images (that means to delete the ones that you don't like). Don't be the person that posts 25 photos of basically the same image. You can choose to edit the keepers with an app. PicTapGo is my favorite. With that app, you can also save your previous edit, so you can just apply it to each photo you want to edit.  Lastly, share the ones you keep on social media. Make sure to tag Kristina Rose Photography on Facebook or use the #kristinarosephotography on Instagram. I can't wait to see those photos!
And you can even take your big fancy camera and play around too!
[pp_gallery id="897″]