These mompreneur interviews have become one of my favorite parts of my job as a Christiansburg, VA Photographer.  If you haven't read the others, you should.  I love to celebrate moms, especially moms doing double and triple duty.  Just being able to chat with other moms and learning more about what they do is a special treat for me.  We are all passionate about something and I want to help tell that story.
This lovely lady was definitely on my short list to interview.  You guys, she is not only very talented, but she is so very inspirational.  Her art is unique and all the details she adds to pieces….just wow!  Holly's responses to the questions are very real which I admire because that's how I demand to live my life and what I share with others.  So no fluff here today, folks.  We are getting down and dirty and throwing around some truth bombs about balancing the personal and professional life of a mompreneur.  Read on to find out how Holly rocks her business.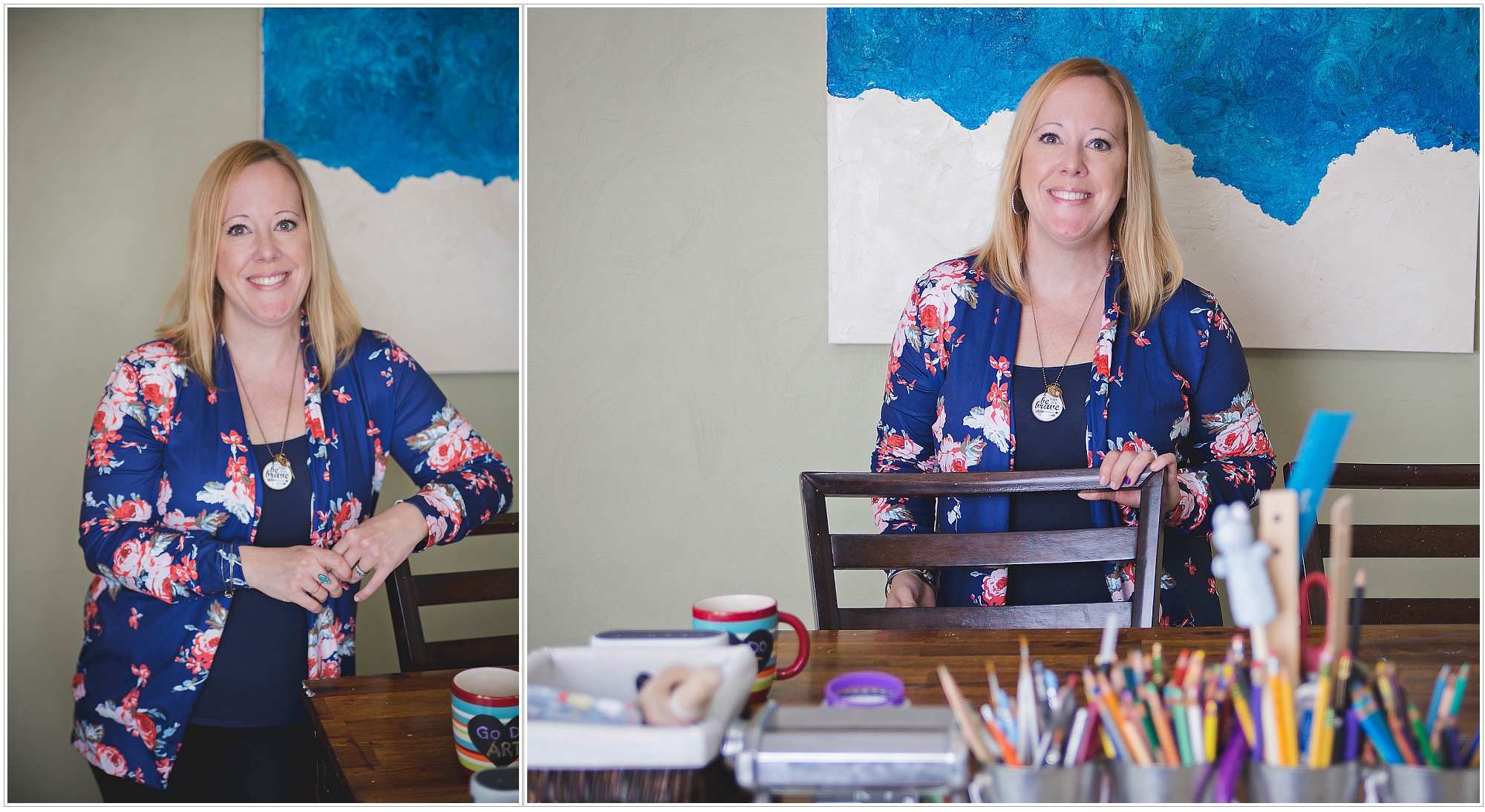 Tell us about your business and what you do?  How did you get into this business?
Clay Becomes You began with my mom, as all things always did. She believed fiercely in me and forever encouraged my creativity. She bought a package of modeling clay for me when I was 8 years old. It was a pivotal moment in my young growth as an artist. I had found my passion at a very young age. After years of working with modeling clay, she discovered Sculpey polymer clay and gave me a box full of every color for my 16th birthday, and that's when the I really took off running. Polymer clay is cured in a standard oven, as opposed to modeling clay, which can not be baked and stays soft. I started making anything that came to mind. When my mom asked me to make a custom cake topper of my grandfather and grandmother, and I was able to create them as polymer clay figurines with success, I knew I had found a unique niche. My mom was my biggest inspiration and my biggest fan, right up to her passing away in 2000.  While planning my wedding in 2002, I made our wedding cake topper and posted a photo of it on The Knot wedding website chat page. I received hundreds of replies and requests for cake toppers from brides all over the US and Canada. My work has since spread into many different themes, including birthdays, anniversaries, graduations, retirements, and much more. The sky is truly the limit.
What's a typical day look like for you?
A typical day is anything but. Hahahahaha. Orders in the studio can be spread out pretty far. A normal work day usually starts right after the boys all shuffle off to school. I am fortunate to have my studio in our basement. For years I had to drag all of my supplies into the dining room and work for several hours, pack it all up, then unpack it all the next day…lather, rinse, repeat. Not very conducive for creative inspiration or focus. I am married to an absolute Godsend of a husband. Robb recognized my need for a space to call my own and suggested we turn the back room in the basement into my studio. This has allowed me to keep my work out on the table right where I left it. Clay scraps rest where they fall, and I can pick up where I left off. Can I get a HALLELUJAH??? Seriously key to productivity. I'll grab my coffee and head downstairs and work for about 2-3 hours, break for lunch, and then head back down until school bus time. The most lovely part about all of this is that my table seats 6-8, so my kids can come down and work side by side with me anytime they want to. Often if I am working on the weekend, my youngest, Elias, is right by my side crafting away. We crank up some Ray LaMontagne or Needtobreathe on Pandora. Pure bliss. I also hold private art lessons on the weekends and plan to open the studio for a couple of art camps this summer, and possibly art parties for kiddos birthdays.

What has been your biggest victory?
My biggest victory…that's a super personal one. I think honesty is pretty important, so I'll be raw with this one. My biggest victory is being able to still hold on to my creativity and use it to heal my once very broken spirit and self after the devastating loss of my mom. My artwork is where I pour out my tears and gratitude to my mom for giving me this gift as a child. She was and is the very root of my being, and my constant drive to give back to others- through my art, my cooking, my family, my friends…all of it. So, my biggest victory is that I am brokenly unbroken, and that produces some of the most inspired pieces I have ever created.
What has been your biggest challenge?
Straight up ADD. Yep. Thank God for this scattered brain of mine, because art is messy, and lawdy, so am I. My very patient husband calls me "Kitty" because I am such a dumpster fire. Keeping myself on track can be a challenge, but once I am seated, and my music is flowing, I get into my happy place and all flows freely. Peace, harmony, all the happy feels roll on out. My other challenge is just, well, LIFE. Daily life. My house suffers greatly when I have a deadline. Laundry? HAHAHAHAHAHAHA. I already hate laundry, but let's keep it real. Sometimes I have a laundry pile big enough for my 6 ft. tall nephew to HIDE IN when the boys play hide and seek. TRUTH.
How do you balance being a mom and a business owner?
There is no balance. There is somewhat haphazardly thrown together chaos. One of my other passions is cooking, so I really try to make sure I have ample time to fix lovely meals for my family each night. I find as much heart warming joy in watching my kids react to their meal as I do watching a client's reaction when they see their cake topper for the first time. I love sharing things that bring happiness.

One secret you would like to share that can make another Momtrepreneurs journey easier?
Hmmmmm. If it speaks to your soul, take that leap. None of us is getting out of here alive, so at the end of your journey, do you want to say that your biggest self-accomplishment was washing everyone's underwear? Probably not (but hey, if you like that and that's your passion then, by all means, do that!!!).  If there is one thing I learned from my mom and the journey I am on, you have to listen to your own inner voice, unleash it, and be BRAVE.
Please share with us what motivates you?
This isn't a shock, but…my mom. Her death has propelled me to do better, be better, give better of myself.  Always and in all things. I am incredibly driven to educate people and spread awareness about Domestic Violence. My husband and my kids are my world. Robb motivates me because for 15 years he stuck like glue, never faltering- ever my lifeline when peace felt so very bleak. My relationship with God motivates me. Truth motivates me. Love motivates me. My journey motivates me. Giving back to a community that has so richly carried me over the years motivates me. Music, cooking and running motivate me. The constant yearning to bleed colors and glittery imagination motivates me.

What's the one thing you want your children to remember about you?
That above all else, Love Wins. Period. There is nothing without love. And that their mama fought for truth and love in everything she did.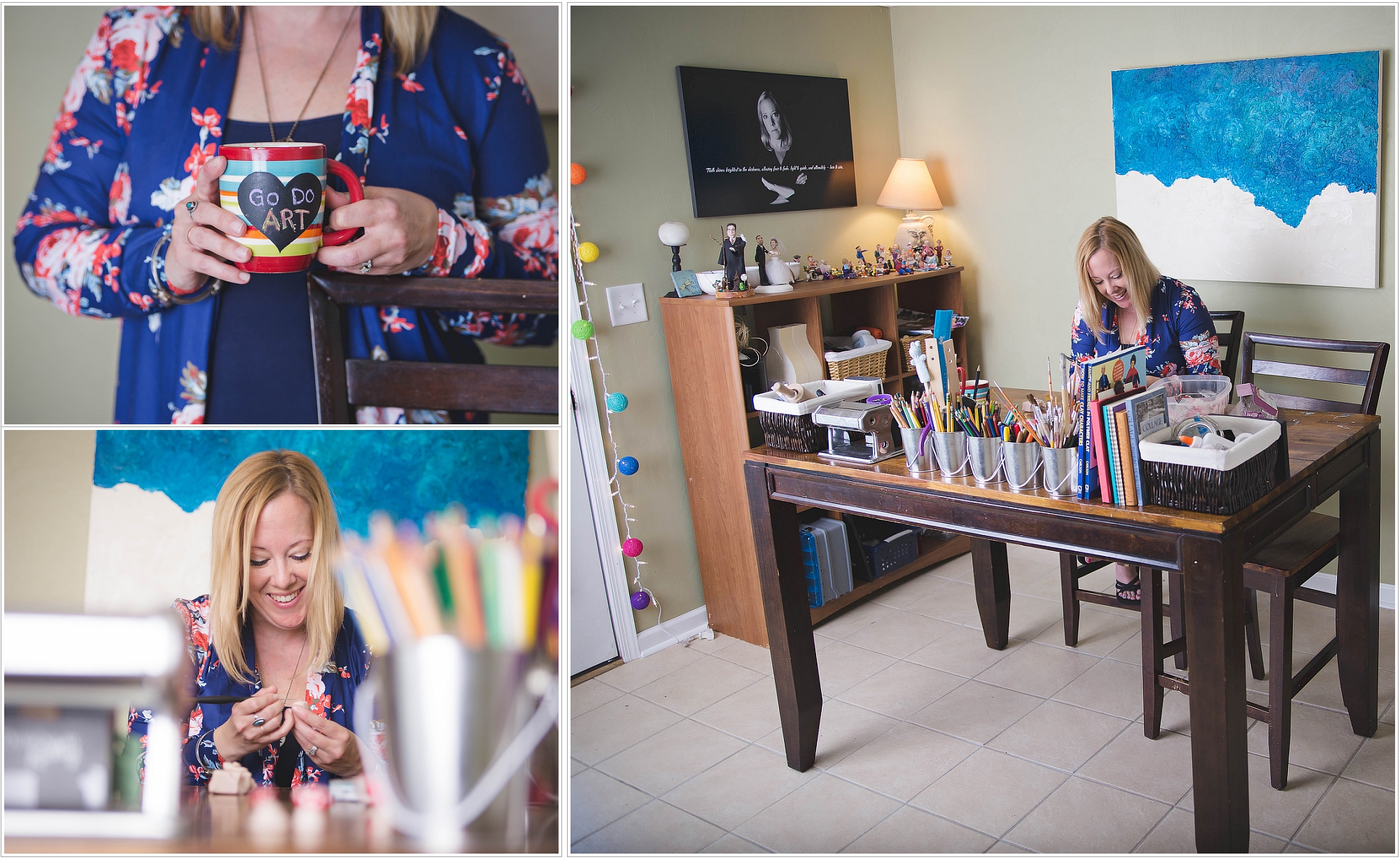 If the readers would like to connect with you, what's the best way to do that?
I have a business page on Facebook for Clay Becomes You. Readers can private message me there. Or just hang out around Kroger or Michael's Craft Store for awhile. Wait long enough and you're sure to run into me as I happily make my way through as if I am in a movie- music playing, birds chirping around me…living the dream, y'all.
---
Did you love this interview?  Show Holly some love in the comments.  Are you a momprenuer hoping that I'll highlight your business?  Shoot me a message and let's chat!
Love what you see here and want to learn more?  Take a walk through my website and then become part of the Krosephoto VIP list!