Do you know your own love language? How special would it be to give a gift that speaks Mom's love language? There are the typical things that you think to get every mother for Mother's Day and no doubt, the flowers practically fly off the selves the Saturday before the Big Day.  Now, I call it the "Big Day" because it is a big day! Even though us moms nod it off as just another day, we love to have it acknowledged. Even if it's small, we'd like some attention.
Last year I talked about those last-minute gifts that you can get mom and they still apply.  But have you ever thought of trying to figure out what Mom wants based on her love language?
Speaking Mom's Love Language
The Five Love Languages by Gary Chapman is a series of books that teach about how to love another person in the way that they receive love. If you haven't read it, I highly recommend it. The concept is amazing and so easy to understand.  Once you've figured it out, you can see a big difference in how to communicate with your spouse, children, and others.
Take the test and learn more about finding your love language.  After you do, let's talk about some gifts that Mom might like based on her love language.
Obviously, mom will love any gift that you give her, but if you start speaking her love language, you'll make her day.
Make sure to check out the last paragraph because I have a gift that's sure to please any love language!
Words of Affirmation:
With this love language, not only is it important to hear "I love you" but also "why".  Why do you love mom? What makes mom so special?
Create a handwritten letter with the kids and make sure that a letter from dad is also included.  List all the reasons mom is so amazing.
Plan a little scavenger hunt around the house. Make little notes about why she's special and send mom to each of the places where she might do something special for the family every day. (examples – outside where she plays basketball with the children, in a child's bed where she tells a bedtime story, in the oven where she places dinner every night.)
Head to your local craft store to pick up a little box. Have the kids decorate the box and each write little notes for mom to place inside.
Quality Time:
If mom's love language is quality time, she just wants your undivided attention for the day.  It doesn't have to be this crazy planned trip, she will just love knowing that you've set aside time to spend with her.
Plan some time at home where all electronics are up and you play a game together. You can even pick up a new game to do together. My family loves Exploding Kittens.
Grab your bikes or pick a trail to simply take a walk. You can chat and enjoy nature.
Get mom a gift card for a class at Wine and Design or a local painting/pottery shop and plan to do it together.
OR purchase and plan to take a photo class with Kristina Rose Photography! You can do it in person or online and plan to do your homework together!
Receiving Gifts:
Now, don't think that if mom's love language is receiving gifts that she wants you to break the bank and that she longs for material things.  This mom wants to see the love and thoughtfulness behind the gift.  That means that you need to be aware of moms favorite things and be listening for the little hints that she might be dropping.
Remember the scavenger hunt above with the words of affirmation? Change it up to now include all of mom's favorite little things like a pack of gum, candy bar, or coffee cup. She would love seeing all her favorite things throughout the house.
Sneak in some small gifts throughout the day in places where she's going to be and it's even better if she continues to find them throughout the week. For example, put a few of her favorite things in her purse or car seat.
Take a favorite photo of hers and make it into a collage with quotes of how much she means to you. It's Always Autumn has some great photo gift ideas.
Acts of Service:
What this mom wants to hear more than anything is "Let me do that for you." You'll make her day for sure!
This mom doesn't want to do the chores on mother's day. You do those chores for her. She often has to take care of her mother's present (and sometimes her mother-in-law's), so make sure that she doesn't have to lift a finger that day.  Dad needs to work with the kids and make sure mom gets breakfast in bed without having to clean up afterward.
Do a project that she's been begging to have done or a chore that's been put off for a couple of weeks. She'll love that you're knocking things off her to do list.
Get mom gift certificates for a car wash, house cleaning service, a month's meal prep service like Hazel Bea at Home, or even a manicure/pedicure.
Physical Touch:
Physical touch is a love language that is easy to do, but you must be intentional. Mom wants lots of hugs, hold her hand when you walk with her and just take some time to sit close and link arms.
This mom would most likely love a good therapeutic massage from a professional like Pampered Healing in Christiansburg, VA or another local favorite.
Snag this mom a subscription box that arrives monthly to help her relax and have some downtime.
Get mom her favorite book or movie or even gift her a hammock. And then, plan to hang out in there with her.  She'll love the cuddles she gets, and the quality time will be a bonus.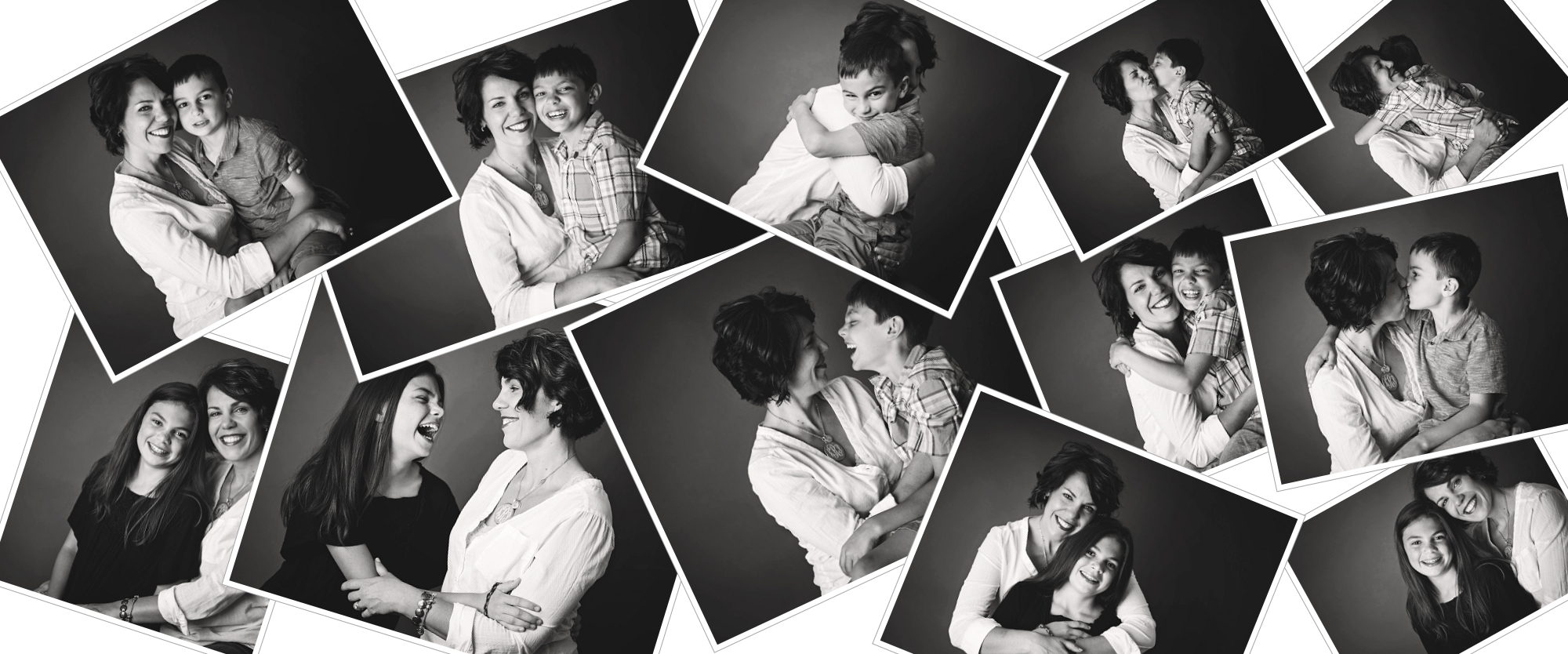 What ideas did this spark for the mom in your life or for you?  I'd love for you to share more in the comments.
And guess what?!  I have one more little bonus for you.  The Celebrate Mom sessions that I am currently offering until the end of May touch on each one of these love languages.  That's what makes them so very special. Mom gets some alone time with her children and we do lots of hugs and kisses during the session.  Mom will hear those beautiful words of affirmation from her children as she watches the video and she'll have those memories to treasure for years.  She also gets to choose from some amazing gifts after the session like a locket or an album.  And if this session is booked for her and she doesn't have to do it…WOW, what a treat!
Book your Celebrate Mom Session from this post, and you'll receive an extra gift from your session of a mounted photo along with a gift that the children can complete at home for mom.  It's an easy gift with a big impact!  And it just needs to be completed sometime within the next two months.
And if you purchase a gift card for a family session to occur sometime this year, I'll waive the $150 session fee.  Because mom deserves something special.  And I bet if dad and the kids agree to a session without complaints, mom would be in heaven.  And I promise to give everyone an experience to remember!
Love this info?  Shoot it out to the masses and share it!
Want to make sure you don't miss out on all the details – Join the tribe
[optin-cat id="1609″]